These are the computers I currently have in my collection (list last updated March 2020).
Amstrad 464 & GT64 monitor: link
Amstrad 6128 & GT65 monitor: link
Amstrad

e-m@iler

Amstrad Notepad NC100
Apple Macintosh SE
Apple Macintosh Classic
Apple Newton MessagePad H1000
Apple iMac G3 Bondi Blue (translucent)
Apple iMac G4 (domed)
Apple iMac 7,1 Aluminium (2007), 24″ 2.4GHz Core 2 Duo [PSU fault]
Apple Mac Mini (2010)
Apple iPad 2 (16GB wifi, iOS 6.1.3): link
Apple iPhone 4 (32GB, iOS 7)
Asus EeePC 1001H
Asus EeePC 1001P: link
BBC Master
Cambridge Z88
Commodore PET (CBM) 8032 [faulty]: link
Epson HX-20
Grundy Newbrain
IBM PC XT (5160), MDA green screen monitor (5151), Model M keyboard [hard drive rarely works]
Jupiter Ace
Mattel Aquarius
Oric 1 [untested]
Osborne 1 (OCC 1) – awaiting collection
Osborne 1 (OCC 1a) link
Osborne 1 (OCC 1a) [faulty]
Sinclair QL [untested]
Sinclair ZX80 (early, vacuum formed case) [broken corner]
Sinclair ZX80 (late, injection moulded case)
Sinclair ZX80 with ZX81 conversion (early, vacuum formed case) [untested]
Sinclair ZX81
Sinclair ZX Spectrum 16KB (blue rubber keys) [untested]
Sinclair ZX Spectrum 128KB ("toast rack") [untested]
Texas TI-99/4a [partial keyboard fault] (video discussing YUV output)
Texas TI-99/4a [untested]
Toshiba HX-10 MSX [untested]
TRS-80 Model 3 / Model 4 hybrid! link
Video Genie (EG3003) #1 [cassette deck faulty] (post about repairs)
Video Genie (EG3003) #2 [cassette deck faulty] (post about repairs)
Video Genie I
I've made a 'computer museum' in my living room by filling one alcove with IKEA cabinets.  The TV and speakers are mounted on the side walls to float in front of the cabinets:
The TV can swing out the way to access the cabinets: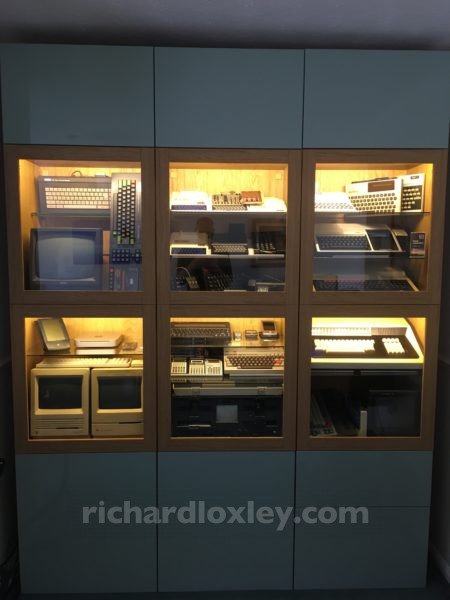 The Amstrad cupboard: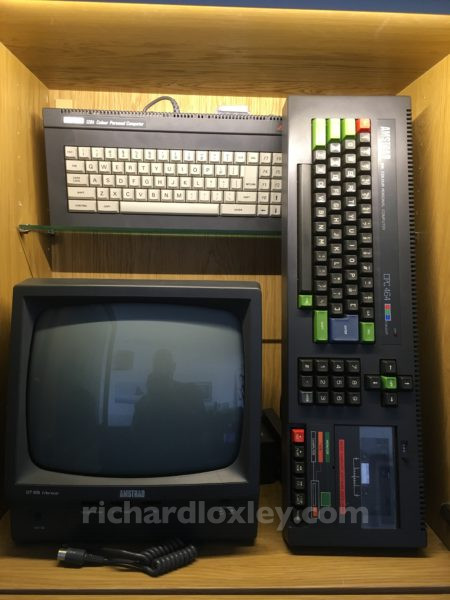 Contains CPC 464 (my family's second computer) with DDI-1 disk drive and interface, and DK'Tronics 64KB RAM expansion.  CPC 6128 (bought from a colleague in the 1990s).  GT65 monitor for use with either computer.  The GT64 monitor from the 464 is in my loft.
The Sinclair cupboard: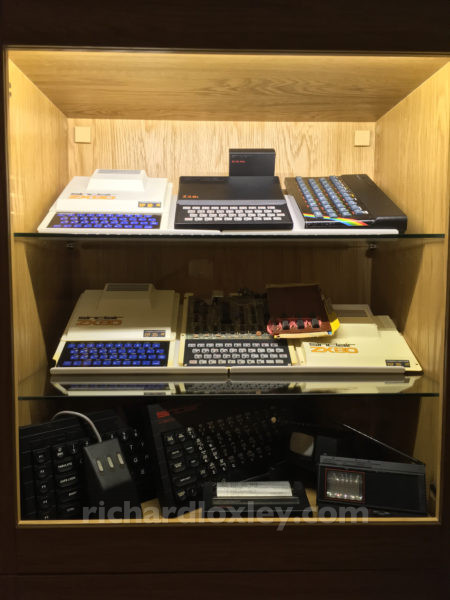 Top row:
ZX80 (late, injection moulded case)
ZX81 with 16KB RAM pack
ZX Spectrum 16KB (blue rubber keys) series 2
Middle row:
ZX80 (early, vacuum formed case) bought from eBay in 2000.
ZX80 with ZX81 conversion (early, vacuum formed case) shown here disassembled to reveal the conversion kit, plus composite video mod, and stripboard homemade mod (believed to be a 'slow mode' video mod to make it fully compatible with the ZX81).
Bottom row:
QL with mouse, disk interface, twin 3.5″ disk drives, 512MB RAM expansion
ZX Spectrum 128KB ("toast rack")
ZX printer
Sinclair Microvision portable TV
Sinclair FTV1 portable TV
The miscellaneous desirable (or unusual) stuff cupboard :-)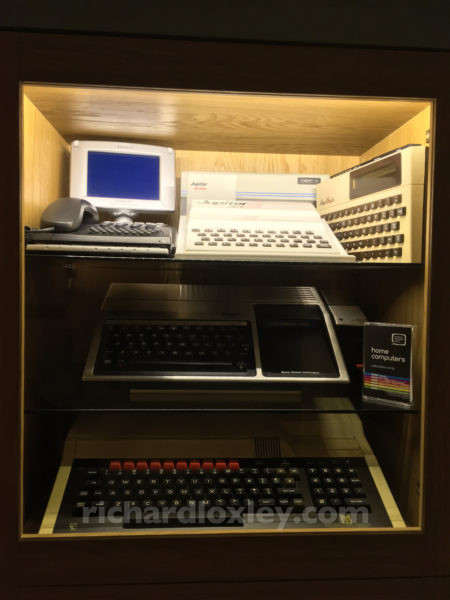 Top row: Amstrad e-m@iler, Jupiter Ace with 16KB RAM pack; Oric 1; Grundy Newbrain AD.
Middle tow: Texas TI-99/4a with speech synthesiser, extended BASIC cartridge and original joysticks.  (Plus the Home Computer trump game!)
Bottom row: BBC Master.
The Apple cupboard: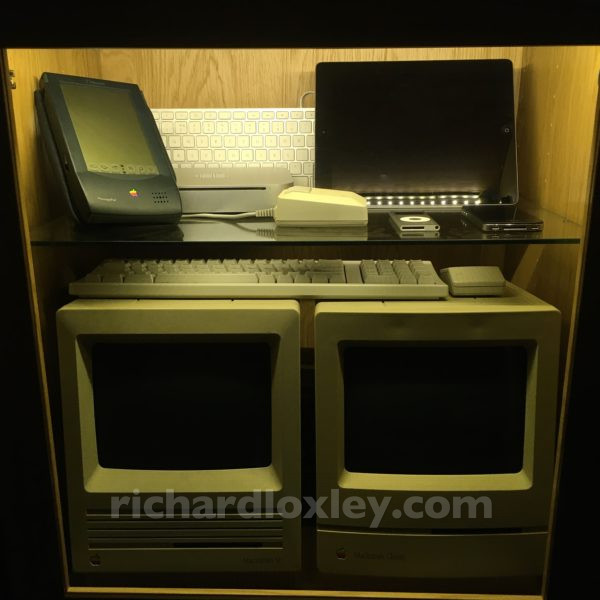 Top row: iMac keyboard; Apple Newton MessagePad (H1000); Apple Mac Mini (2010); iPad 2 (16GB wifi, iOS 6.1.3); orphaned mouse from very early compact Mac; iPod Nano (second generation); iPhone 4 (32GB, iOS 7).
Bottom row: Macintosh SE; Macintosh Classic; 2 x ADB keyboard and mice.
The portable computing cupboard: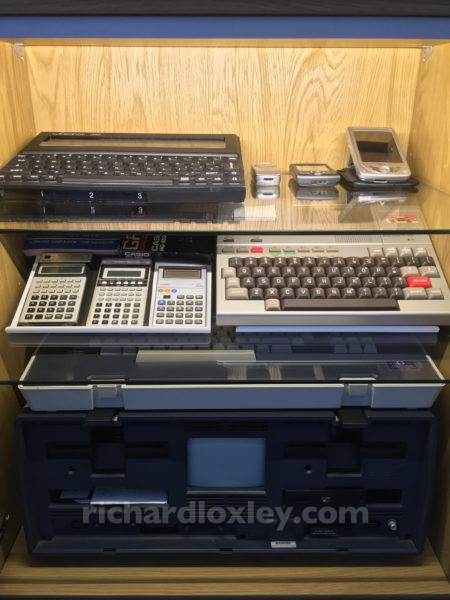 Top row: Cambridge Z88; Samsung A300 flip-phone; HTC P3300 "Artemis" Windows Mobile smart phone; Mio Digiwalker 168 (first PDA with GPS built-in).  [Not shown in above photo: Amstrad Notepad NC100.]
Middle row: Casio fx-510 scientific calculator; Casio fx-8100 scientific calculator & watch; Casio MG-880 game calculator; Epson HX-20 (world's first laptop).
Bottom row: Osborne 1 (OCC 1a) – world's first portable computer.  Also includes a Gotek/FlashFloppy USB floppy drive emulator.  Not shown: another OCC 1a which is waiting repair, and an original Osborne 1 (OCC 1) awaiting collection.
The 'everything else' cupboard: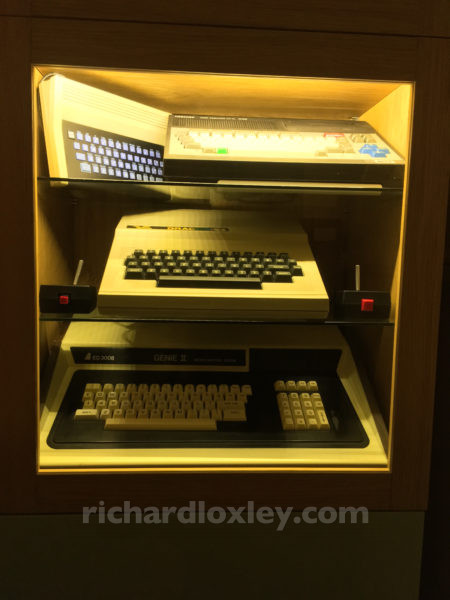 Top row: Mattel Aquarius; Toshiba HX-10 MSX.
Middle row: Dragon 64 and analogue joysticks.
Bottom row: Video Genie II (EG3008).  Not shown 2 x Video Genie (EG3003) cassette models, which I've mostly fixed, but still have faults in the cassette decks.  The EG3003 was the first computer my family owned, back in 1980.  Sadly we sold our original to fund the purchase of the Amstrad CPC 464, but I now own three different editions of the Genie to make up for it :-)
Also, previously in this cabinet, but now moved upstairs: Philips 10 CX 1120/05R TV.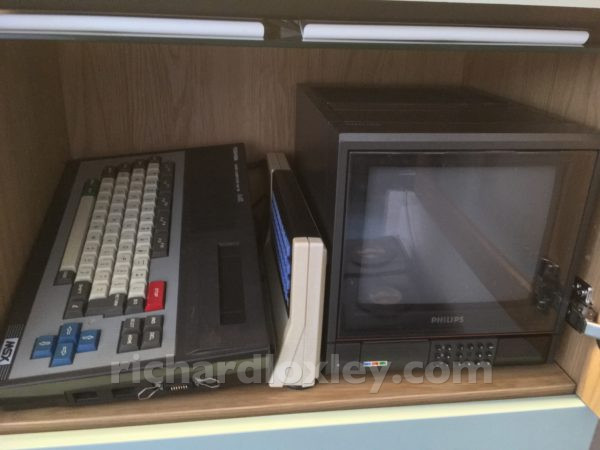 The Philips TV was possibly the first portable to have an RGB SCART socket (so early it was before they'd settled on the name SCART – it's just labelled 'Euroconnector'!)  It was absolutely brilliant as a computer monitor for games.  Not quite high enough resolution for 80 column text mind you.  Sadly the RF input died, and then the composite input also died.  When I put it away about 20 years ago the RGB input still worked.  I tested it recently and it was completely dead – but the power switch no longer 'clicks' and I had to replace that twice before.  I'll try to change the switch sometime and see if that makes a difference.
Pye also made a version of this in bright red plastic called the "Pye Red Box".  I've now finally managed to buy a Pye Red Box!  It mostly works (with a bit of geometry distortion) but occasionally flips into a mode where only half the screen is displayed and there's a buzzing/crackling from the back (probably around the neck of the CRT).  Shame.
I'd like to eventually restore the Philips 10CX1120 to full working order.  I've found a service manual with Dutch circuit description for free download, a TV repair magazine article, and some repair tips. I tried to to buy an English service manual here but it turned out to be the French/German/Italian version, and didn't include the circuit description at all.  Finally I found an English circuit description – it covers several different TVs but I think the basics are correct if you ignore the optional extra boards such as NICAM decoders.
My goal would be to make one good set out of the two.  Even better would be to fix both – but I suspect the Pye may have CRT issues which would be hard to fix.  I'm a bit nervous of working inside either because of high voltages in the CRTs.  Ideally I'd find someone who knows how to safely work on TVs to shadow me and transfer some of their skills.
[Edit October 2019: I now have a third of these TVs: another Pye Red Box, and this one is fully working!  So I'll use that for now, with a goal of getting the black Philips set running again with the main board from the faulty Pye Red Box.]
The top cupboards:
In the first top cupboard I have the EG3014 disk/memory expansion for the Video Genie, a twin 3.5″ disk drive for the Sinclair QL, and 4 x cassette decks for software loading: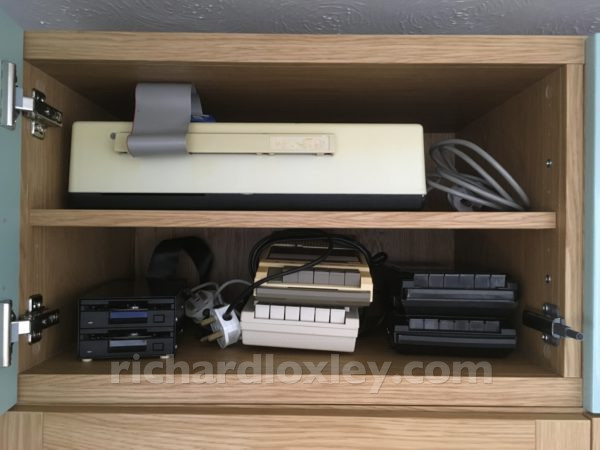 In the second top cupboard I have various categorised PSUs, cables, and cassette software: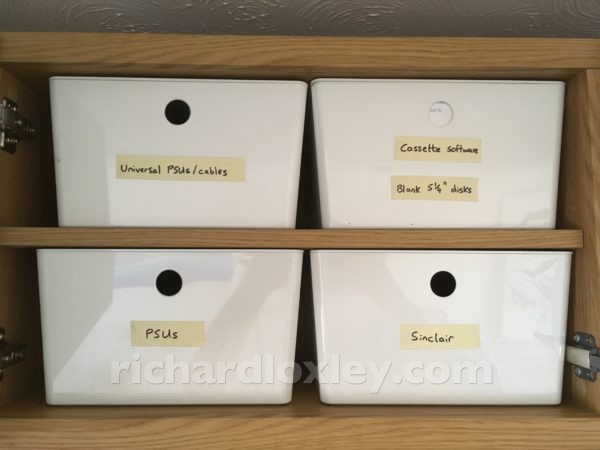 In the third top cupboard I have a Sony black and white portable TV (with studio monitor composite video conversion); a JVC colour portable TV; and my RetroMatic 2000 interfacing unit: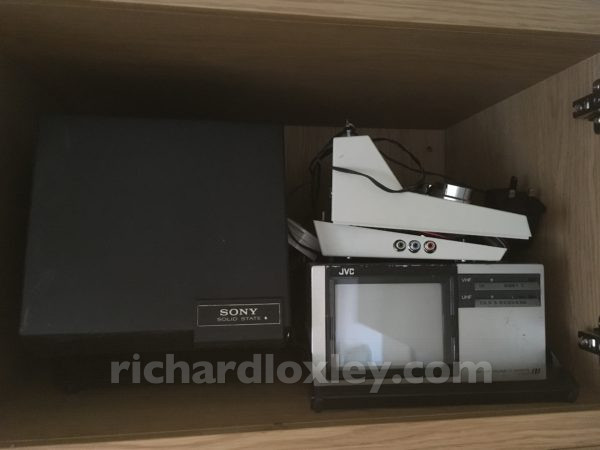 Bottom cupboards/drawers:
In one drawer I have all the manuals for the computers: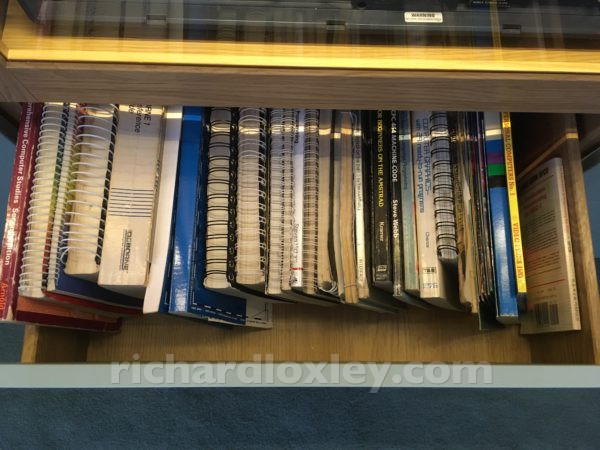 In another I have more manuals, and plastic wallets containing the cables for each computer, all alphabetised for ease of locating: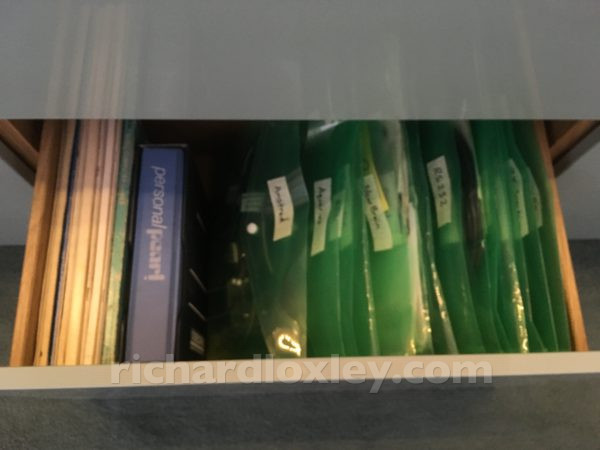 In this drawer I have all the frequently used disk and cartridge software: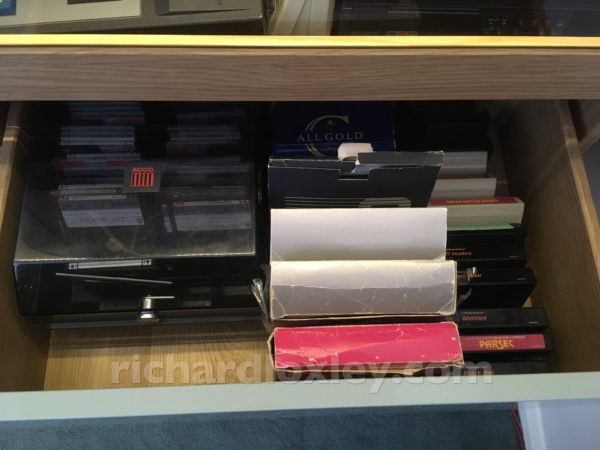 And to prove it's not all about the computers, this drawer contains the cat food ;-)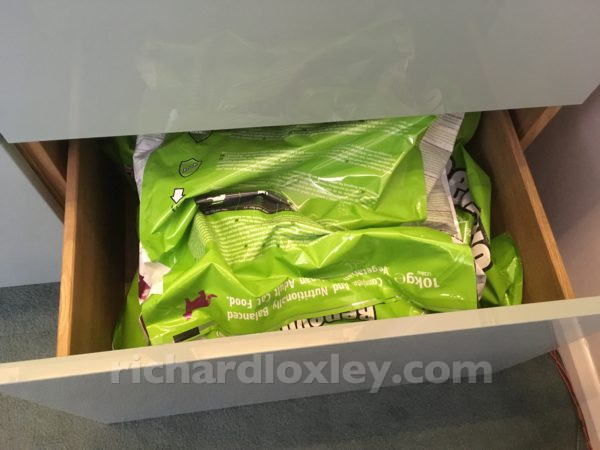 Finally the bottom cupboard contains all my A/V equipment to supply the TV and speakers, an Ethernet switch, and the Raspberry Pi that runs my home automation.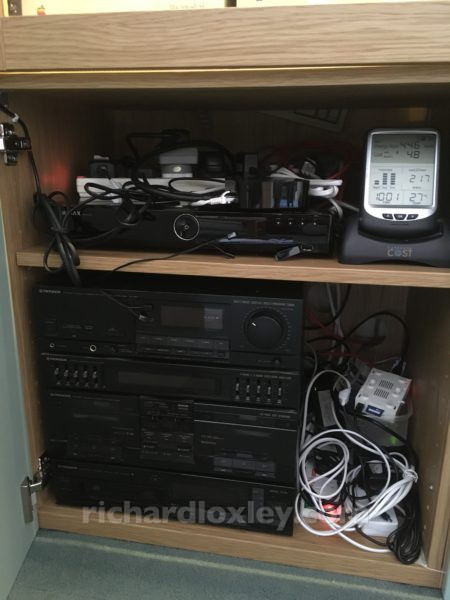 The bigger computers:
Some of the computers don't fit in cabinets, so they are on my living room sideboard: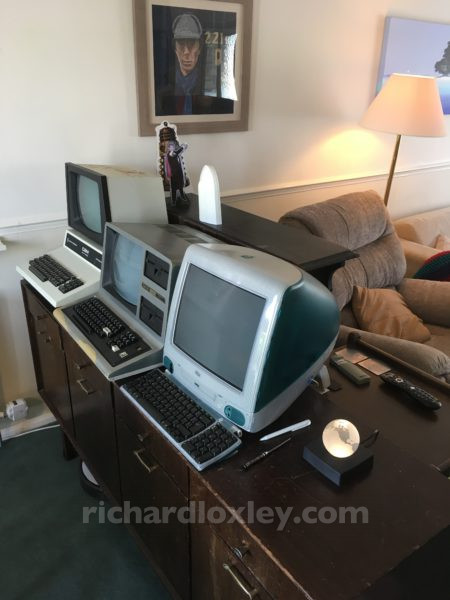 A Commodore PET (CBM) 8032.  I also have an 8050 dual disk drive in the loft: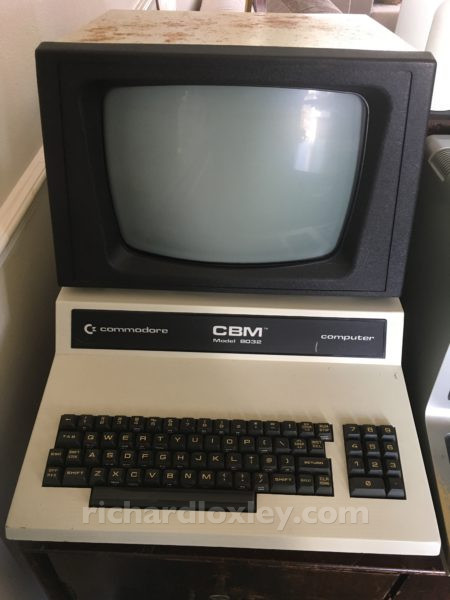 A TRS-80 Model 3 / Model 4 hybrid (it's a Model 4 in a Model 3 case with a Model 3 keyboard!)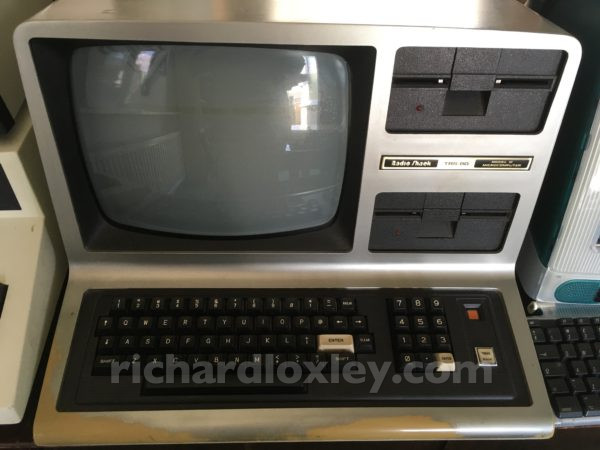 An Apple iMac G3 Bondi Blue: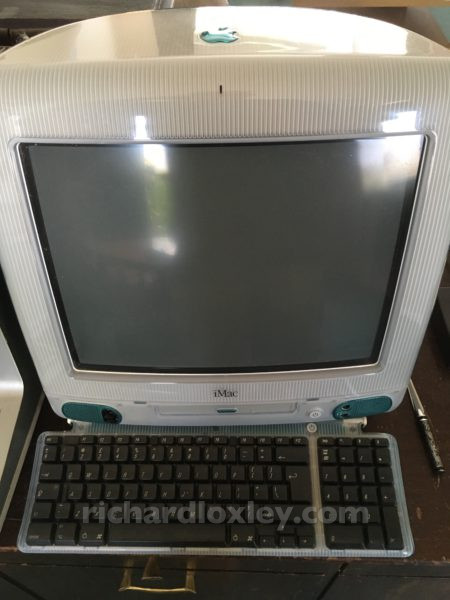 An IBM PC XT (5160):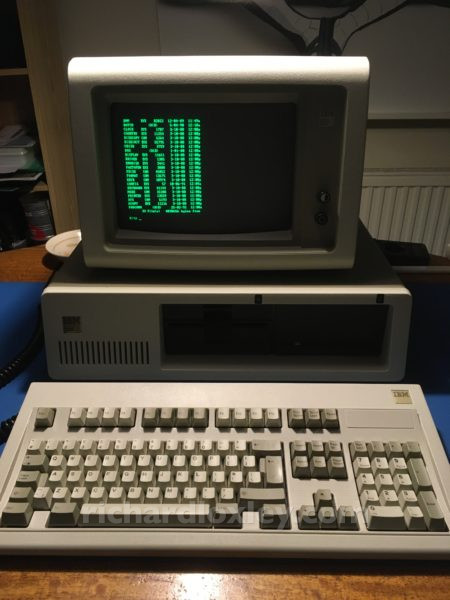 And over in the other corner, disguised next to a globe lamp, is an Apple iMac G4:
Home gaming:
I also collect hand-held electronic games from the 1980s, and have acquired various games consoles over the years too.
I used to have my vintage computer collection in a small glass cabinet in my spare bedroom.  Now I have the large cabinets in the living room I can display all the games in the smaller cabinet: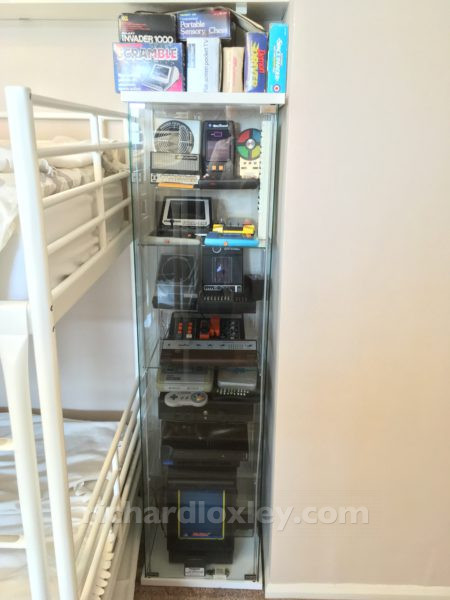 At the top: Invader From Space, Intex Space Invader, Pocket Simon, Stylophone, Mini-Munchman, Blip (clockwork Pong), Casio PT-20 keyboard; Grandstand Scramble, Galaxy Invader 1000; Champion Racer; Missile Invader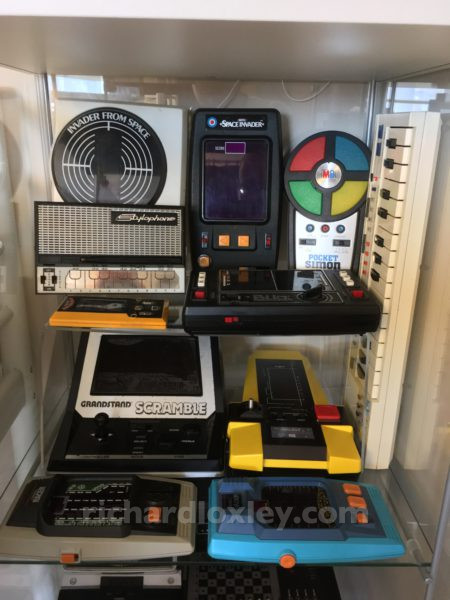 On the second shelf: Astro Wars; Demon Driver (mechanical); Tandy LED dice; Tandy 1650 "computerized portable sensory chess"; Binatone 01/4974 TV game; Videomaster Superscore.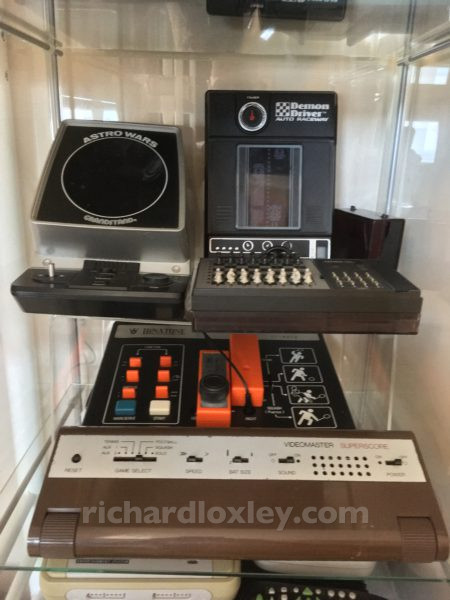 On the third shelf: Super Nintendo PAL (with controller and scope sensor – actual scope is in the loft); Sony PSone; Xbox (soft-modded with XBMC installed, DVD remote plus IR power mod); Sony PS2.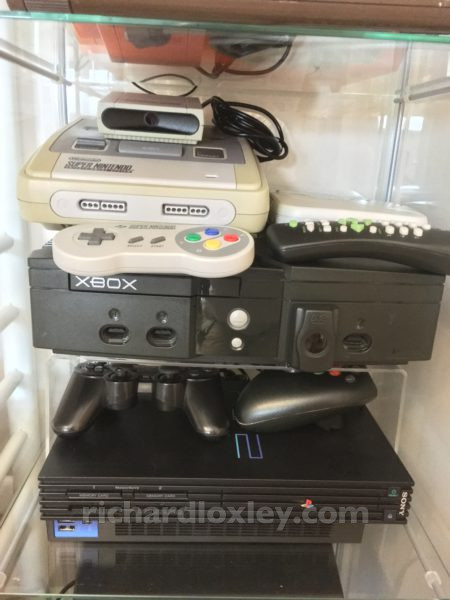 On the bottom shelf: Vectrex (the only vector graphics console), including five original games, plus a cartridge with copies of everything ever released, and a homemade auto-fire mod made by the previous owner.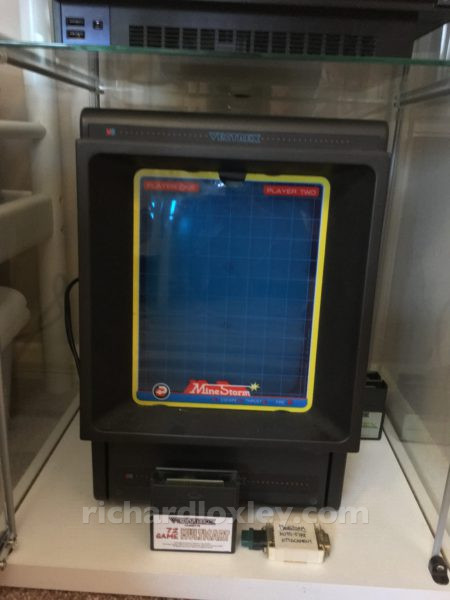 I've also recently received a Sega Mega Drive II, but haven't tested it or put it on display yet.
And above the display cabinet, boxes for the games, and all the larger manuals and software that wouldn't fit downstairs.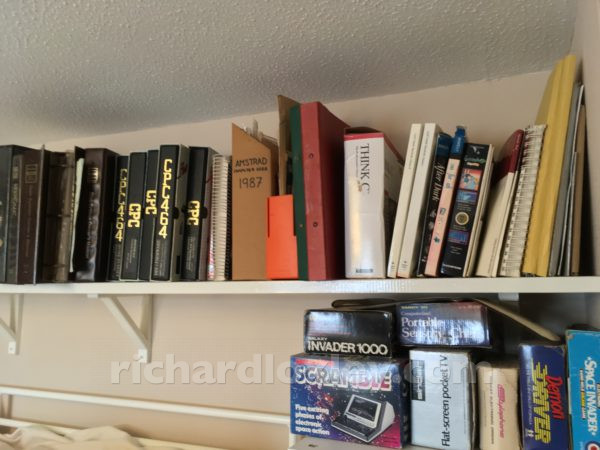 And some stuff for "Jess the Cybercat":
Back downstairs, the new cabinets had to integrate with my home automation for looking after the cat.  These two feeders are programmable over the internet using software/hardware I designed myself (Raspberry Pi, relay board, remote web server, PHP & Perl scripts).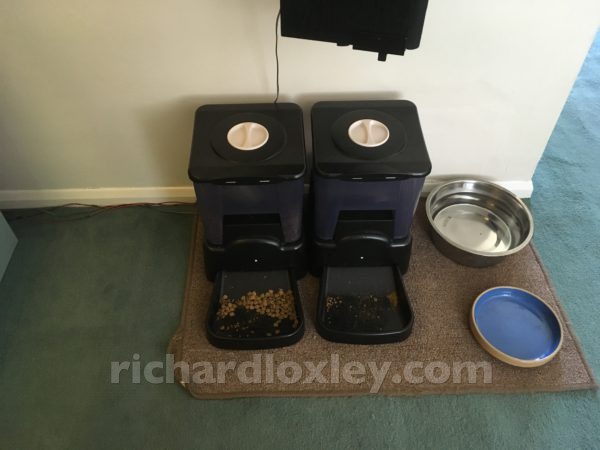 Lurking below the right speaker is a webcam to monitor the cat's feeding habits: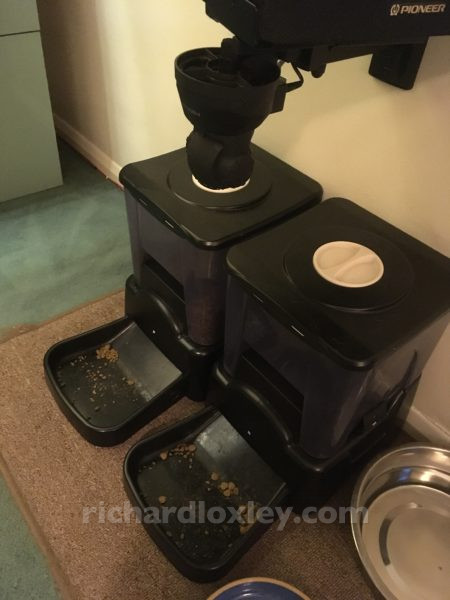 And a matching webcam below the left speaker to get a wide-angle "cat's eye view".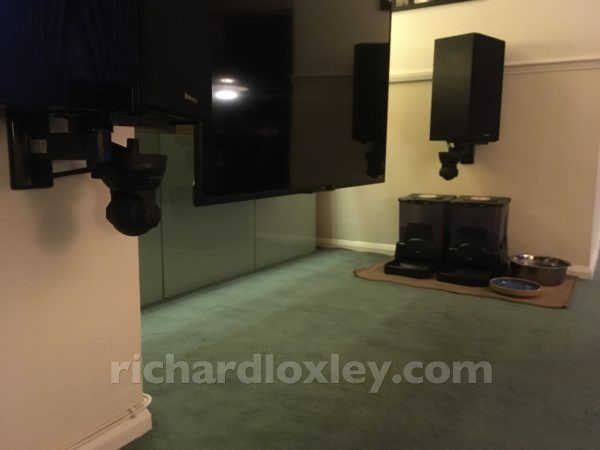 Both webcams use motion detection software I wrote to detect humans or cats and make video available to a custom mobile app.  It also integrates with my homemade wifi catflap that monitors whether the cat is in or out and sends push notifications to my phone.  I should write all that up some time.  In the meantime here's a talk I did about it at the Bristol Maker Faire.