In my last post I managed to flash the HxC firmware onto Gotek hardware, add a display, and test it on my Amstrad CPC 6128.
Next up: get it working with my Video Genie II (a TRS-80 clone).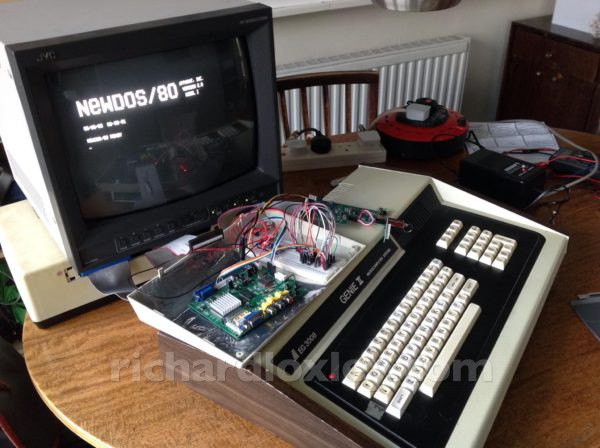 Well that didn't seem too hard.  I've managed to get it to boot off the USB disk
But there's a slight problem. NEWDOS (and I think any DOS for the TRS-80 architecture) can't do *anything* without a system disk in a drive.
I've downloaded a boot disk image, and I've download lots of game disk images from the Internet. So I can boot off the system disk, but if I swap to a game disk, the Genie no longer has access to NEWDOS so can't read the game disk!
Real systems usually have two disk drives for this reason – boot off disk 0, run programs off disk 1. Indeed this boot disk defaults to disk 1 for everything. I've just worked out how to change that so it defaults to disk 0:
"SYSTEM x AN=y" edits the NEWDOS image on drive x to default to doing directory listings on drive y if you don't specific a drive number


"SYSTEM x

AO=y" edits the NEWDOS image on drive x to default to creating files on drive y if you don't specific a drive number

"SYSTEM x" shows you the current parameters for drive x



So "SYSTEM 0 AN=0" and "SYSTEM 0 AO=0" sorts me out for a single drive system.
I suppose I could buy another USB disk drive, but that seems a little excessive…
It seems the only solution for single-drive systems is to have system files on every disk you use. Or at least a minimal system.
So now to figure out if there's a way to copy the system files onto an existing disk without reformatting it…
---
I've figured out how to display the hidden system files on a directory listing ("DIR S"). All those SYS1/SYS files are what I'm after: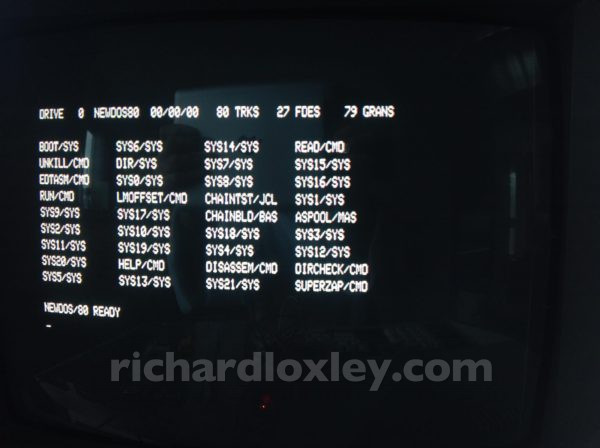 I've found some very convoluted instructions on how to do what I think I want. Basically in the context of how to update NEWDOS to a new version on single-drive systems (you have to copy the upgraded files to every disk).
To simplify this, the method involves putting the file names of all the system files in a text file. Then you can create a 'chain file' (kind of a batch file thing I think) that takes that list of files. The CHAINBLD.BAS program edits them I think. And I think CHAINTST.JCL is a test Job Control List which is what I'm after.
Then there is a special copy command that will take one of these JCL files and copy each file in one go. But because it's a single drive system it will prompt you to swap the disk at regular intervals.
More reading and testing required.
---
It took an afternoon and evening of ploughing through obscure manuals, but I've succeeded in getting Internet-downloaded games on the Video Genie via the USB disk!
I discovered you can't copy system files onto a non-system disk, as they have to be at a fixed location on the disk, so can only be put there during formatting.  (You *can* update them in place if changes need to be made due to an upgrade, you just can't copy them if they've never been there before.)
So I needed to copy games files the other way, onto a system disk. But that's hard when you can't boot from that disk, so can't see what you're doing! There is a way to copy files with disk swapping, and there is a way to get a directory listing also by disk swapping, but it's all a bit of a pain. Sadly you can't just run a program via disk swapping.
But then I had a 'doh!' moment. I was doing this using a physical computer, with a single virtual disk drive manipulating virtual disks. But on the computer upstairs I have a TRS-80 emulator, with 4 virtual disk drives, which can manipulate 4 virtual disks at a time!
So I did it all happily on the emulator, and then copied the disks onto USB for use on the Video Genie.
I've also worked out what you need on a system disk, so I've now created four blank disk images I can use to copy other software onto:
full NEWDOS/80 including utilities
as 1 without the utilities
as 2 without BASIC (so can run machine code software only)
completely cut down minimal NEWDOS/80 so it can do directory listings and launch machine code programs, but nothing else (not even copy or rename files)
Each of those is smaller than the last, so I can choose whichever I need to fit the software on. (4) has 185KB free (out of a 200KB) disk, so should fit almost anything.
So, for reference "COPY x,y,,CBF,NFMT,USR" will copy from x drive to y drive, files with any date, "copy by file" (rather than by sector), "no format", "all user files" (no system files).
References: one page quick reference, full manual.
And here's Scarfman (an early Pacman clone) downloaded off the net, and running on the physical hardware as a proof of concept: