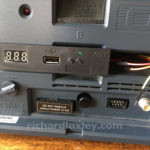 In my last post I had successfully got a Gotek/FlashFloppy USB floppy emulator working with my Osborne computer.
For future use, I still wanted to design a way to copy any additional files as and when I needed. I'd already experimented with RS232 serial transfers. I had also wondered about leaving a floppy cable installed somewhere in the machine so I could attach a USB floppy emulator easily when I needed to, but it was in no way obvious how to do that without leaving the aesthetics of the machine a bit 'messy'.
Today's job was to solve that dilemma.
read more