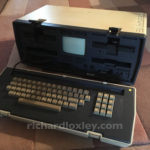 Back in February 2018, I finally had a chance to buy an Osborne 1, the world's first portable computer, from 1983.
I'd been after one for years, but they are quite rare in the UK, and most eBay sellers are unwilling to ship such a heavy and delicate computer.
This one was somewhere that I could pick it up while visiting relatives, and just within my budget.
read more